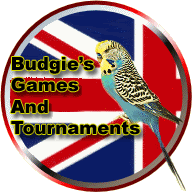 [
Budgie's Double elimination Hypergammon Five
] and the correct link
[
Budgie's Tourney's
]
1. Game
Hypergammon
2.
Two day loss of game
3. Player 1 invite player 2 and post game number.
4. This is a double elimination game.
5. Please add this to your wiki so its easier to find.
6. Please message
Budgie

if you need any help....
7. Loose twice and you are OUT.
8. All invites
MUST
be sent out within two days. and all invites
MUST
be accepted within two days.
SIGN UPS CLOSED 19th January 2012

and the winner is
coop


and well played
2nd place goes to
GameNut


and a very nice try

to all who took part in the games

everyone
Budgie

will donate 3 golderos to the Final Winner
Round One Starts 19th January 2012 and completed 7th February 2012
Round Two Starts Monday 23rd January2012 completed 26th March 2012
Round Three Starts 24th January 2012 and completed 24th April 2012
Round Four Starts 30th January 2012 and completed 12th May 2012
Round Five Starts 8th February 2012 and completed 5th June 2012
Round Six and the Final Game Starts 5th June 2012 and completed 13th August 2012
Completed games Below........
Round One Completed games.
Round two Completed games.
Round three Completed Games.
Round 4 completed games.
Round 5 completed games.
Round Six completed games
Original players list below.