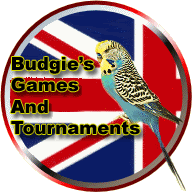 [
Budgie's Grabble with a Twist 16
] And the correct Link
[
Budgie's Tourney's
]
1. Game Grabble
With a Twist
2. Two day loss of game.
3. Player 1 invite player 2 and post game number.
4. This is a single elimination game.
5. Please add this to your wiki so its easier to find.
6. Send
Budgie

or
berecca

a message if you need any help.
7. Invites must be sent out within 48 hours
All Words must NOT exceed Five Letters.
Completed Words on the Board MUST NOT EXCEED five letters.
Sign-ups OPEN 11th April 2012
Round One starts 20 April 2012
Round Two starts 23 April 2012
Round Three starts 25 April 2012
Finals Start 21st June 2012
Well Played and the winner is Sir Geoff
Nice Try and 2nd place goes to Karen Q
Many Thanks to everyone for taking part