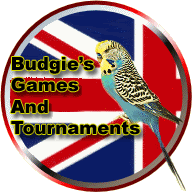 [
Budgie's Post Card Hypergammon
] and the correct link
[
Budgie's Tourney's
]
1. Game Hypergammon
2. Two day loss of game.
3. Player 1 invite player 2 and post game number.
4. This is a single elimination game.
5. Please add this to your wiki so its easier to find.
6. Send
Budgie

a message if you need any help.
All players wishing to play MUST send any type greetings card to meBudgie The winner will receive all the Cards at the end of the games. All i ask is the address of the WINNER on completion of the games
Sign-ups OPEN 2nd June 2012
Please try sending your card at time you put your name into play
Budgie will message each player as they sign up to play with the correct Home adress
Round 1 starts 7th June 2012
Round 2 starts 10th June 2012
Round 3 starts 12th June 2012
FINAL starts 21st August 2012
And The winner is ZOE
Followed by ceci close 2nd
And to everyone who took part.