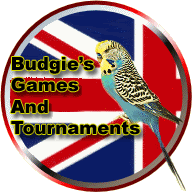 [
Budgie's Rest of the World Versus USA Hypergammon Challenge Cup
] And the correct Link
[
Budgie's Tourney's
]
1. Game Hypergammon...
2. 2 day loss of game..
3. Player 1 invites.. Players 1 or player 2 may post game numbers
4. This is a single elimination game ( as long as we have equal players )
5. This is definatly a fun game.
6. Please add to your wiki so its easier to find.
7. Send
Budgie

a message if you need help.
8.
A CUP
will be given to the winner.
Please do not resign games as i may sometimes need to move best losses on in this game. to keep the games flowing i may have to move the highest loosing score onto next round.
Round One starts 28th June 2012
Round One WINS
USA
6
Rest
10
---
Round Two starts 1st June 2012
Round Two WINS
USA
8
Rest
2
---
Round Three starts 5th July 2012
Round Three WINS
USA
5
Rest
3
---
Round Four starts 26th September 2012
Round 4 WINS
USA
1
Rest
4
---
Round Five starts 29th September 2012
Round 5 WINS
USA
0
Rest
4
[
Budgie's Rest of the World Versus USA Hypergammon Challenge Cup
]
Outright winner with the highest pip count goes to ditzyblue with 30
2nd place goes out to smiler5 with 26
3rd place goes to numptieheid with 17
4th place goes to JohnDerek with 10

to all who took part everyone

everyone