Personal Blog of Badger
Badger Tales
This blog belongs to Badger

.
Current Poll
Signature Goldie Contest: The Best Caption Is.....

Daddy's looking, but he can't find me!

17%

ok, trust me on this one.... when I peck your ear tell her, " you're right, I'm sorry, and I'll never do it again"....and what ever you do don't listen to him...he's a bird

17%

Hey what bout me?

17%

Hey what you doin back there?

17%

Can I come play too??

11%

Peek-a-Boo!

11%

Here's looking at you!

11%

Helloooooooowwww over there

0%

Hey Buddy,,Whats up?????

0%
[ 18 votes ] [ More Polls ]
Blog Votes
This blog has received 9 upvotes and no downvotes. You need to log in first to vote on blogs.
Hot Tamales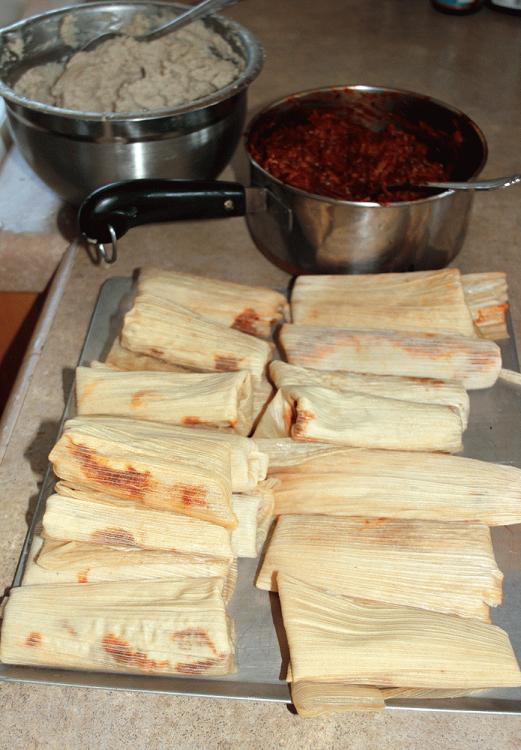 Easy Hot Tamales
3 1/2 lbs pork shoulder or 3 1/2 lbs pork butt, trimmed of fat and cut up
10 cups water
1 medium onion, quartered
3 garlic cloves, minced
3 1/2 teaspoons salt
Red Chili Sauce recipe below
3/4 cup shortening
6 cups masa harina
1 1/2 teaspoons baking powder
50 dried corn husks (about 8 inches long)
Directions:
Be sure to cut as much fat off the pork shoulder as reasonably possible and cut into large 2 inch wedges to cook. In a 5 qt pot, bring pork, water, onion, garlic and 1 1/2 salt to boil. Simmer covered, about 2 1/2 hours or until meat is very tender. Remove meat from broth and allow both meat and broth to cool. Shred the meat using 2 forks, discarding only excessive fat - not all as a little fat adds flavor to your tamales. Emulsify the broth in blender when cooled enough.
In a large sauce pan, heat the red chili sauce (see
Red Chili Sauce
recipe below) and add meat; simmer, covered for 10 minutes.
To make masa, beat shortening on medium speed in a large bowl for 1 minute. In a separate bowl, stir together masa harina (usually found in the Mexican food isle), baking powder and 2 teaspoons salt. Alternately add masa harina mixture and broth to shortening, beating well after each addition. (Add just enough broth to make a thick, creamy paste - around 6 to 7 cups of broth).
In the mean time, soak corn husks in very warm water for at least 20 minutes; rinse to remove any corn silk and drain well just before use. Don't drain too soon, or they will harden again.
To assemble each tamale, spread 2 tablespoons of the masa mixture on the center of the corn husk (each husk should be 8 inches long and 6 inches wide at the top. If husks are small, overlap 2 small ones to form one. If it is large, tear a strip from the side). Place about 1 tablespoon meat and sauce mixture in the middle of the masa. Fold in sides of husk and fold up the bottom. Place a mound of extra husks or a foil ball in the center of a steamer basket placed in a Dutch oven. Lean the tamales in the basket, open side up. Add water to Dutch oven just below the basket. Bring water to boil and reduce heat. Cover and steam 40 minutes, adding water when necessary.
Serve with sour cream and salsa. Makes approximately 4 dozen small to medium sized tamales.
To freeze these for future meals, leave them in the husks and place them in foil or freezer bags. To reheat, thaw and wrap in a wet paper towel and reheat in the microwave for 2 minutes for one or two or re-steam them just until hot.
Red Chili Sauce
15 large dried chilies (such as Anaheim, New Mexico, California, or pasilla)
4 -5 garlic cloves
2 teaspoons ground cumin
1 teaspoon salt
2 teaspoons all-purpose flour
2 teaspoons olive oil or 2 teaspoons melted shortening
Directions:
Remove stems and seeds from dried chili peppers. Place peppers in a single layer on a baking sheet. Roast in 350°F oven for 2 to 5 minutes or until you smell a sweet roasted aroma, checking often to avoid burning. Remove from oven and soak in enough hot water to cover for about 30 minutes or until cool.
Put peppers and 2 1/2 cups of the soaking water into a blender (save the remaining soaking water). Add garlic, cumin and salt. Cover and blend until smooth. In a 2 quart sauce pan, stir flour into oil or melted shortening over med heat until browned. Carefully stir in blended chili mixture. Simmer uncovered for 5 to 10 minutes or until slightly thickened (if sauce gets too thick, stir in up to 1 cup of the remaining soaking water until you reach the desired thickness). Use this sauce for traditional tamales.
Important note: When working with chilies, use rubber gloves to protect your skin, and avoid contact with your eyes. Wash hands thoroughly with soap and water to remove all of the chili oils.
---
Written on 8 May at 11:53AM
Should Birds Be Kept As Pets?
My answer to the question is YES! Birds should be kept as pets. Don't get me wrong, they should be protected in the wild as well, but birds do have a valid place in our lives and families as pets.
It's a fact that a wild birds life spam is a fraction of what it is in captivity, they are also far less healthy, loose a far higher percentage of chicks and die from starvation & habitat destruction in contrast to pet bird owners going to extremes in search for the best foods and the most interesting toys for their birds and providing appropriate veterinary care. Many pet bird owners DO keep their birds fully flighted and their birds enjoy flying about their homes and outdoor aviaries. If someone is going to make the argument that birds were meant to fly free, then dogs and cats were meant to hunt and be free and no one should keep them either. It's hypocrisy to claim one without the other.
The only valid argument is that there are a lot of unconscionable pet owners, to the tune of the same number of unconscionable parents, mates, and fellow workers. This sort of pet owner is also unconscionable in their treatment of cats and dogs, it's not just birds. Of my own, Icarus has had his wings clipped (not the first flight feathers either, rather just the secondary so he couldn't fly "high" into light fixtures and what not while he was learning). It wasn't for the long term, but rather the short term while he was learning to fly. Currently, Ick flies about the house, with the full freedom nature intended. He goes to bed in a cage, and come morning, knows the routine is to go to his "tree" with the other birds. Come nightfall, my bird family will clamor to be put away if I haven't already done so and all my birds are very happy with this set up. I don't doubt for a minute that they are happy, especially when they are riding on my shoulders or stealing food from my plate. The only time they don't all get out is if I have company (for the safety of my companies fingers remaining intact as like cats, not all my birds are friendly to strangers), or if I have to leave for a short spell.
It is no surprise that the opinions of some are against keeping birds as pets. That is their belief. They are entitled to their opinion, but it is shameful that some attach to their opinion all sorts of manufactured factoids. It is shameful that they are attempting to color public opinion of those who have no familiarity with birds as pets. The facts are that there are millions of very well cared for happy pet birds in the USA, UK and throughout the world. In turn, as strongly as their thoughts are, they should also be against the keeping of any animal as pets because the argument used is about care and limitations of the animals physical being.
Are we "bad" for keeping house cats? Indeed, my birds have the same limitations as any house cat. There's little difference between keeping chickens vs parrots, vs cats really. We coup chickens to keep them safe at night. Does that make us guilty for keeping them safe from predators? People with too small a coup are just as guilty as those keeping their dog in too small a crate, or putting it on a chain in the yard with a mere 12 foot radius. That doesn't mean nobody should ever be allowed to own a dog again. In my household, I don't own birds, rather, they own me and they know it. Also, due to the large number of birds living in captivity which cannot be returned to the wild and the limited space available in avian sanctuaries, optimizing care of birds held in private hands can go far in reducing suffering and improving the welfare of captive birds. Like people who adopt dogs and cats from the shelters, Mariah and Lucy are both birds I rescued and introduced to our happy family flock because I had available room and time to devote to them.
There has been an ongoing animal rights agenda to eliminate all pet animals (kind of like the old tree huggers): dogs, cats, herps and birds, whether domesticated or non-domesticated. These anti-pet people follow a cult of sorts...the cult of NO ANIMAL USE. And, they consider pet animals as being "used." While they are legally free to have their opinion, it is important that the public recognize this end agenda so that the public is not suckered into agreeing with them and thus lose the right to keep pet animals of any kind.
Many of us who do have pet birds and who do care about birds are also involved in conservation projects, either in funding projects or in actively participating in projects. Without our experience and intimate knowledge of the behavior of our birds, we would be less able to contribute meaningfully to this conservation work.
Birds have been kept as pets as long as humans have lived in any type of family units or societies. Just because a modern day cult doesn't agree with the idea that birds be kept as pets doesn't mean their statements have any basis in fact. They take every opportunity to find reasons why their ideas should be supported by the public. If this kind of argument was supported, it would remove our ability to keep horses, cows, goats, pigs, dogs, cats, the list goes on....including our having children. We constrain our children with car seats, highchairs, playpens, naps, bed times and fences. Where do we draw the line? Either you are a good parent or you're not. Either you are a good pet caretaker, or you are not. It's all the same.
I think people who care about birds in the wild or in captivity would be supportive of the statements of true scientists and conservation experts like Dr. Ulysses Seal of ISIS (
http://eclectusbreeder.com/practices.htm
~ & ~
http://www2.isis.org/membership/Documents/Benefits%20of%20ISIS.pdf
), who stated that IF we are going to maintain birds on the planet that we must have BOTH conservation of birds in the wild AND captive breeding of birds in domestic situations. There are bird species that have survived only because they were bred in captivity.
Noted on the first link regarding Dr. Ulysses Seal, it states:
Our philosophy about bird keeping and bird breeding is based on the fact that humans have been associated with birds from the earliest days and that these activities are not only traditional, but beneficial for birds and humans. I believe that by working with birds, learning about them, understanding them, and appreciating them, that our lives are enriched. For the birds, it means because of our interest and understanding of birds, we will do our best to see that they are protected, their habitats preserved and their future secured. We humans have more interest in protecting birds and animals with which we are familiar. Therefore, for most people who keep pet birds, and for the few who breed birds, they are more likely to take constructive action to conserve birds in the wild and to protect them in aviculture, than they would without this meaningful personal contact with birds.
---
Regarding this topic, I found an interesting article on parrots as pets...here are the highlights:
Dr. Irene M. Pepperberg, author of Alex and Me: How a Scientist and a Parrot Discovered a Hidden World of Animal Intelligence — and Formed a Deep Bond in the Process (Harper Paperbacks, $13.99), says a large parrot needs an enriched environment to challenge its intelligence.
"And we have to recognize that they may not be the perfect pet for everybody. It's a lifestyle issue," she said.
She says parrots are suitable pets for people who are home a lot. Writers and others who don't have to leave the house for work can interact with the birds all day long.
"They make wonderful companions if you have the lifestyle," Pepperberg said.
"These are really intelligent creatures. I'm not trying to say they are terrible pets. I'm just trying to say be aware," Pepperberg said.
http://www.chron.com/disp/story.mpl/pets/6824863.html
Written on 22 Aug at 1:57PM
Florintines
These Tuscan cookie treats (they are really more a candy than a cookie), are a true Christmas classic. They're deceptively simple to make, nutty flavored, perfectly chewy in the middle, crispy on the ends, toffee-scented with a hint of orange. If you aren't salivating yet, try them with chocolate sandwiched between two layers, dipped with chocolate around the edges, drizzled with chocolate, sprinkled with powdered sugar or they can simply be rolled into flutes and accompany your coffee and teas.
Florintines
Ingredients
1 3/4 cups sliced, blanched almonds (about 5 ounces)
3 tablespoons all-purpose flour
Finely grated zest of 1 orange (about 2 tablespoons)
1/4 teaspoon fine salt
3/4 cup sugar
2 tablespoons heavy cream
2 tablespoons light corn syrup
5 tablespoons unsalted butter
1/2 teaspoon pure vanilla extract
Chocolate Topping, optional: 2 to 4 ounces semisweet chocolate, chopped
Directions
Note: It is important to follow the directions exactly. If the almond mixture is added at the wrong stage, the cookies will not spread out like they need to. Batter dropped onto a heated tray will start to spread the dough instantly so they end up oddly-shaped. So, if you are rolling them into cones, be sure to cool your tray with water each time you remove it from the oven or have extra trays handy.
Position a rack in the center of the oven and preheat to 350 degrees F. Line a baking sheet with a silicone baking mat, wax or parchment paper (a well greased cookie sheet will do in a pinch). Pulse the almonds in a food processor until finely chopped, but not pasty. Stir together the nuts, flour, zest and salt in a large bowl.
Put the sugar, cream, corn syrup and butter in a small saucepan. Cook over medium heat, stirring occasionally, until mixture comes to a rolling boil and sugar is completely dissolved. Continue to boil for 1 minute. Remove from heat and stir in the vanilla, then pour mixture into almond mixture and stir just to combine. Set aside until cool enough to handle, 30 minutes.
Scoop rounded teaspoons (for 3-inch cookies) or rounded tablespoons (for 6-inch cookies) of batter and roll into balls. Place on prepared baking sheet, leaving about 3 to 4 inches between each cookie since they spread (they spread considerably!).
Bake 1 pan at a time, until the cookies are thin and an even golden brown color throughout, rotating pans halfway through baking time, about 10 to 11 minutes. Cool on baking sheet for 5 minutes, then transfer to racks to cool. Repeat with remaining batter. Serve.
Optional chocolate topping:
Put the chocolate in a medium heatproof bowl. Bring a saucepan filled with 1 inch or so of water to a very low simmer; set the bowl over, but not touching, the water. Stir the chocolate occasionally until melted and smooth. (Alternatively, put the chocolate in a medium microwave-safe bowl. Melt at 50 percent power in the microwave until soft, about 1 minute. Stir, and continue heat until completely melted, about 1 to 2 minutes more.)
For sandwiches: Drop about 1/2 teaspoon chocolate onto on the flat side of half of the cookies and press together with remaining halves. Return to rack and let chocolate set.
For chocolate decor: Drizzle melted chocolate over Florentines as desired. Set aside at room temperature until chocolate is set.
For cones: As soon as you can remove the cookies from the paper or pan (while they are still very warm), roll gently around a spoon or knife handle and drizzle with melted chocolate or sprinkle with powdered sugar.
Store baked cookies carefully, separated by parchment or waxed paper, in an air-tight container for up to 3 days. Florentines are best stored separated from moist cookies and cakes.
Variations:
Replace the ground almonds with ground hazelnuts.
Mix in 3 T very finely diced crystallized ginger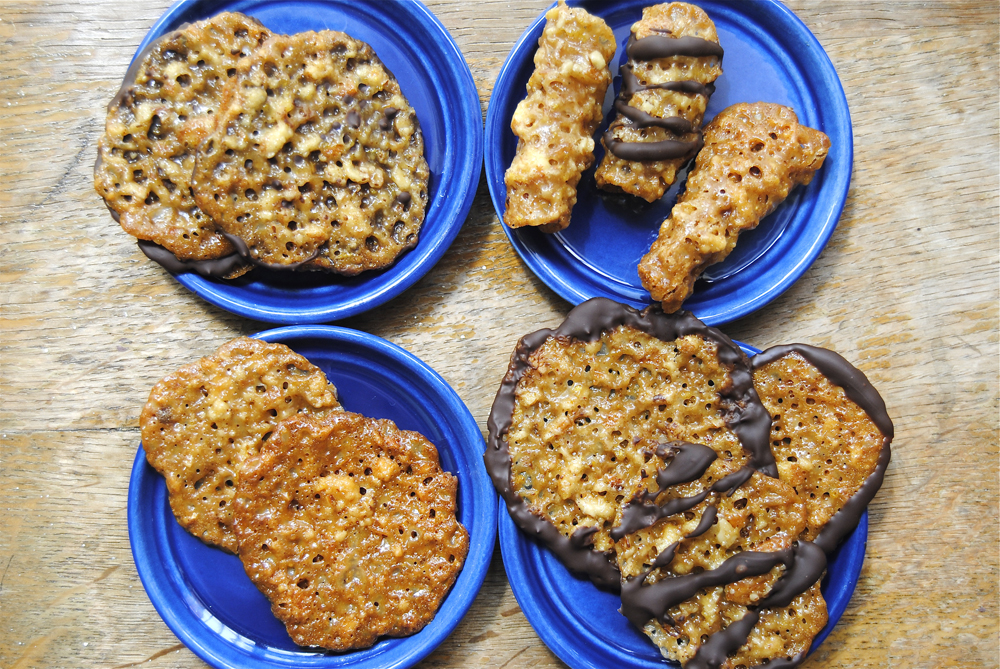 Written on 12 Apr at 12:45PM
3 comments
(You must be logged in to post comments)
Sopa de Frijoles Pollo
This is one of those accidental dishes that came out of a "whats left in the cupboard" at the end of the month days. One large pot of soup, neighbors over for supper and it was gone in a heart beat. Frankly, the aroma of this cooking made us all so hungry, I was lucky to get pics!
Sopa de Frijoles Pollo
Ingredients
2 tablespoons olive oil
3 large chicken pieces (thighs, breasts, backs, what ever)
1 30 ounce can of traditional refried beans (I prefer Rosarita)
2 30 ounce cans of water
1/4 cup chili mix seasoning (Johnny's Lazy J Chili Mix is my favorite)
3/4 medium sized cabbage shredded & chopped (so you have small thin pieces)
1 large red onion chopped into large chunks
3 very full, but not heaping tablespoons ground cumin (a must have for any Mexican or chicken dish!)
3 very full, but not heaping tablespoons ground pepper (fresh is best, but pre-ground will do)
1 very full, but not heaping tablespoon kosher salt
a couple dashes of your favorite hot sauce (careful to not overdo the hot sauce, regardless how tempting it may be - this is a spicy soup)
Directions
This soup is best cooked in a pressure cooker, so the beans don't burn on the bottom of your pan, but if you are happy to do a lot of stirring while cooking, you can make this meal in a large stock pot. If your pot is on the smaller side, use only one can of water instead of two.
Mix the refried beans with the water in a large bowl until soupy. Starting with the oil, place all ingredients including your soupy beans in your pressure cooker, placing the chicken on top last. Cook on "stew" at the highest pressure for 60 minutes and release the pressure right away when finished. As soon as the pot is cool enough to open, gently pull out the chicken pieces with tongs or a fork, and shred the meat off the bones (toss the bones when finished). A close friend taught me the proper way for pulled pork or chicken is to use two forks (one in each hand) to shred the meat off the bones; it's quick, shreds the meat into the right size and is the least messy. Stir the shredded meat back into the soup and serve hot with crisp tortilla chips, shredded mozzarella and a dollop of sour cream.
Serves 16 (it was so good that 8 of us finished it in one sitting, as we all kept going back for more, but we were truly being pigs lol)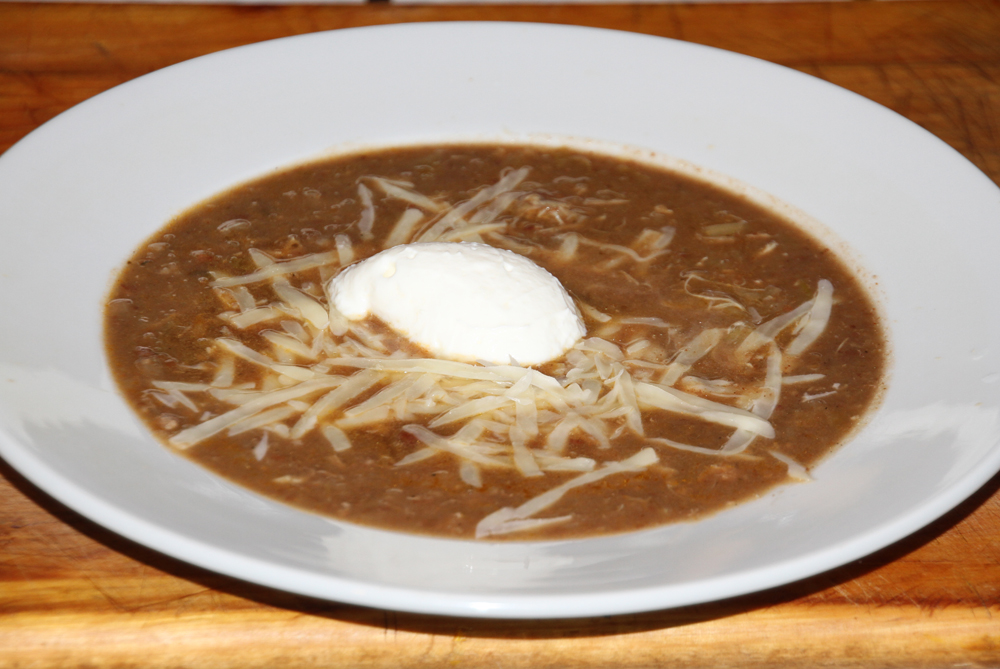 Written on 1 Apr at 2:37PM
Vanessa's Homemade Taco Shells
I love Mexican food! Vanessa's corn tortillas are so much better than store bought too, and are very simple to make. Don't worry if some end up darker than others. That's just the nature of tacos!
As for the taco filling, keep it rather simple and try wrapping the crisp taco in a soft flour tortilla for a special treat. A wonderful taco filling base: shredded beef or fish, 1/2 onion diced, diced green pepper, fresh diced tomatoes, one can of black beans, and tomato paste mixed with garlic powder, cumin (the world can never get enough cumin!), chili powder, salt and pepper to taste, cooked on high for 15 minutes, then simmered low for 45 minutes. Serve a layer in your taco shells, with home made salsa, diced avocado, sour cream and shredded cheese.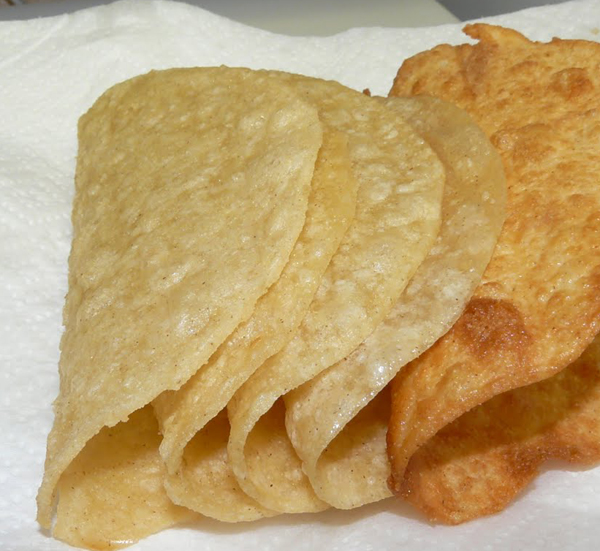 Vanessa's Homemade Taco Shells
Ingredients:
1 1/2 cup cold water
1 cup all purpose flour
1/2 cup of cornmeal
1/4 teaspoon salt
1 egg
vegetable oil
Directions:
Heat well seasoned skillet over medium heat just until hot. Grease the skillet if it looks "dry".
Beat water, flour, cornmeal, salt and egg with hand beater until smooth. Pour scant 1 quarter cup of the batter into skillet; immediately rotate skillet until batter forms very thin tortilla about 6 inches in diameter. Cook tortilla until dry around edge, about 2 minutes. Turn and cook other side unti golden, about 2 minutes longer.
Heat oil (1 inch deep) in a 3 quart saucepan to 375. Slide tortilla into oil. Fold in half with tongs or two forks and hold so 1-inch space remains between halves of tortilla. Fry, turning occasionally, until crisp and golden brown; drain on paper towel.
Do not use self rising flour in this recipe!!! If yours are chewy, it means the oil wasn't hot enough.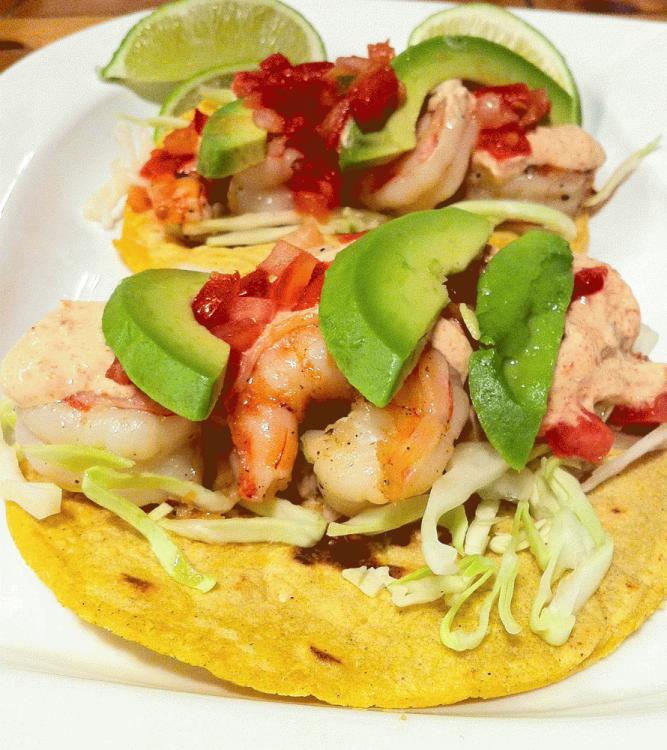 For the above shrimp taco, I made Mango salsa:
Mango Salsa
Ingredients:
2 roma tomatoes seeded & diced
2 mangos, peeled & diced
1 small red pepper, cored, seeded & chopped coarsely
1 small red onion, diced
½ small Jicima peeled & diced
¼ c chopped fresh cilantro
1 med garlic, peeled & minced
½ jalapeño chili, seeded & minced (more if you want!!)
2 limes juiced
¼ c of mango or orange juice
1 tsp of your favorite hot sauce
Directions:
Mix all in a bowl then put in the refrigerator, covered, for 1-4 hours - then see if you can figure out why it keeps disappearing (like magic!).
---
Written on 26 Mar at 6:39PM
No comments have been posted yet. (You must be logged in to post comments)
Homemade Tortilla's
Important
- Do not substitute vegetable oil or shortening for the lard. Also, be sure to use exact amount of lard in this recipe. Using more than the two level tablespoons lard will cause the tortilla edges to break when being rolled out.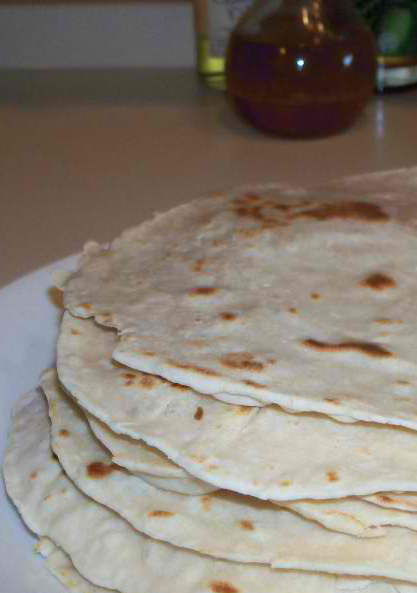 Ingredients:
4 cups all-purpose flour
1 teaspoon salt
2 teaspoons baking powder
2 tablespoons lard
1 1/2 cups water
Directions:
Whisk the flour, salt, and baking powder together in a mixing bowl. Mix in the lard with your fingers until the flour resembles cornmeal. Add the water and mix until the dough comes together; place on a lightly floured surface and knead a few minutes until smooth and elastic. Divide the dough into 24 equal pieces and roll each piece into a ball.
Preheat a large well seasoned skillet over medium-high heat. Use a well-floured rolling pin to roll a dough ball into a thin, round tortilla. Place into the hot skillet, and cook until bubbly and golden; flip and continue cooking until golden on the other side. Place the cooked tortilla in a tortilla warmer; continue rolling and cooking the remaining dough.
Makes 24 nicely sized tortillas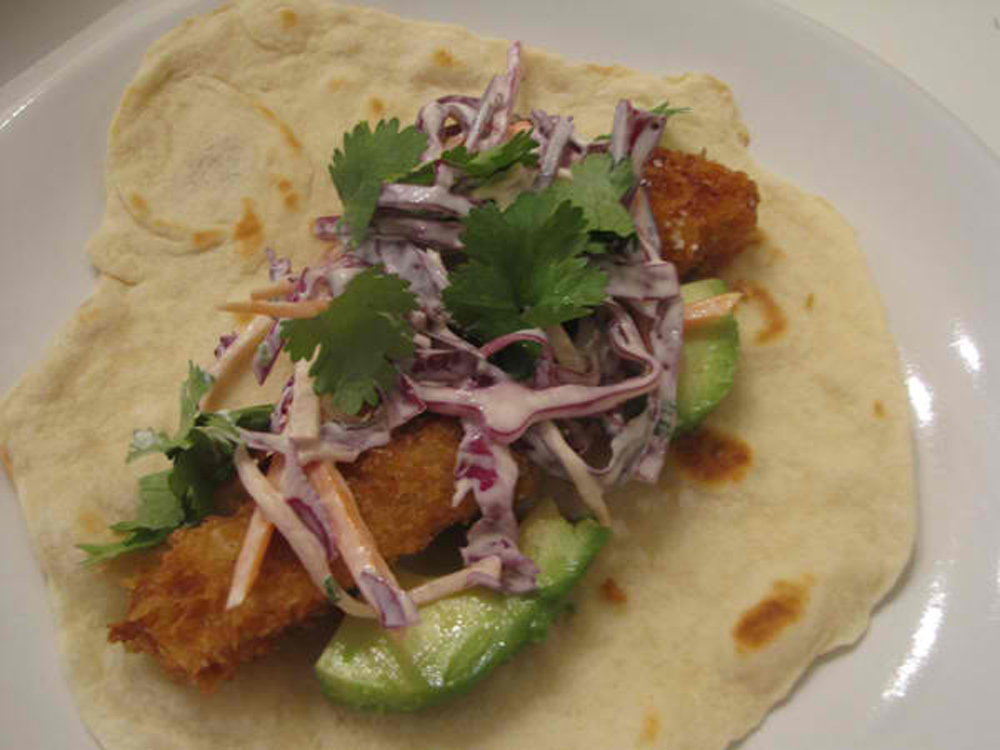 Written on 26 Mar at 6:24PM
No comments have been posted yet. (You must be logged in to post comments)
Granola Bars
Healthy and full of crisp, sweet, nutty flavor, these are my favorite treat to take hiking, camping, or just to keep around the house for breakfast or snacks. The nice thing about granola bars, is that they are so easy to modify!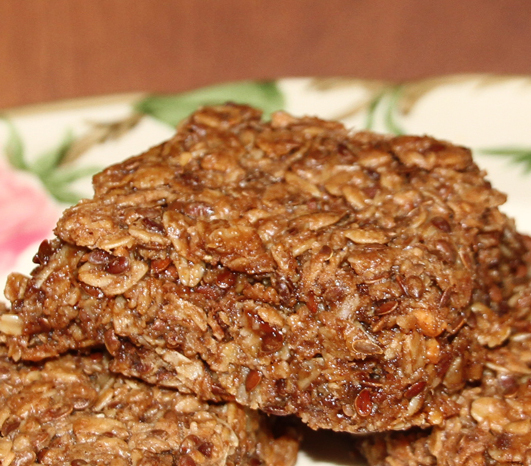 Granola Bars
Ingredients
10 cups rolled oats
1 3/4 cups wheat germ
1 3/4 cups oat bran
3/4 cup sesame seeds (optional)
3/4 cup unsweetened coconut flakes (optional)
1 cup shelled sunflower seeds
1 cup finely chopped almonds
1 1/2 cup finely chopped pecans
1 1/2 cup finely chopped walnuts
Note: In place of the nuts above, you can also use two 10 oz cans of mixed nuts, finely chopped)
1 cup raisins (optional)
1 cup chocolate chips (optional)
1 cup flax seed/flax meal (optional)
1 1/2 teaspoons salt
1 1/2 cup brown sugar
1/2 cup cocoa powder (optional - but incredibly perfect for all chocolate lovers)
1 cup flavored syrup (maple, boysenberry etc)
1 cup honey
1 cup chocolate chips (optional)
1 1/2 cup butter or margerine
1 tablespoon ground cinnamon
1 tablespoon ground cloves
1 tablespoon vanilla extract
4 eggs
Directions
Preheat the oven to 325 degrees F. Lightly grease two large 11x21 baking sheets (or 4 9x11's).
Combine the oats, wheat germ, oat bran, sunflower seeds, sesame seeds, coconut flakes, almonds, pecans, flax seed and walnuts in a large bowl. Whip the eggs together until lightly frothy and stir into the oat mixture just before adding the following syrup mixture.
Syrup Mixture
- Stir together the salt, brown sugar, syrup, honey, butter, cinnamon, cocoa powder and vanilla in a saucepan. Bring to a boil over medium heat, then pour over the dry ingredients, and stir to coat everything well. Spread the mixture out evenly on the baking sheets.
Bake for 25 minutes for a softer crunch, 10 minutes more for a crispier crunch. When you remove from the oven, gently cut into bars but leave in the pan until completely cool. Store in an airtight container.
40 large 1 serving bars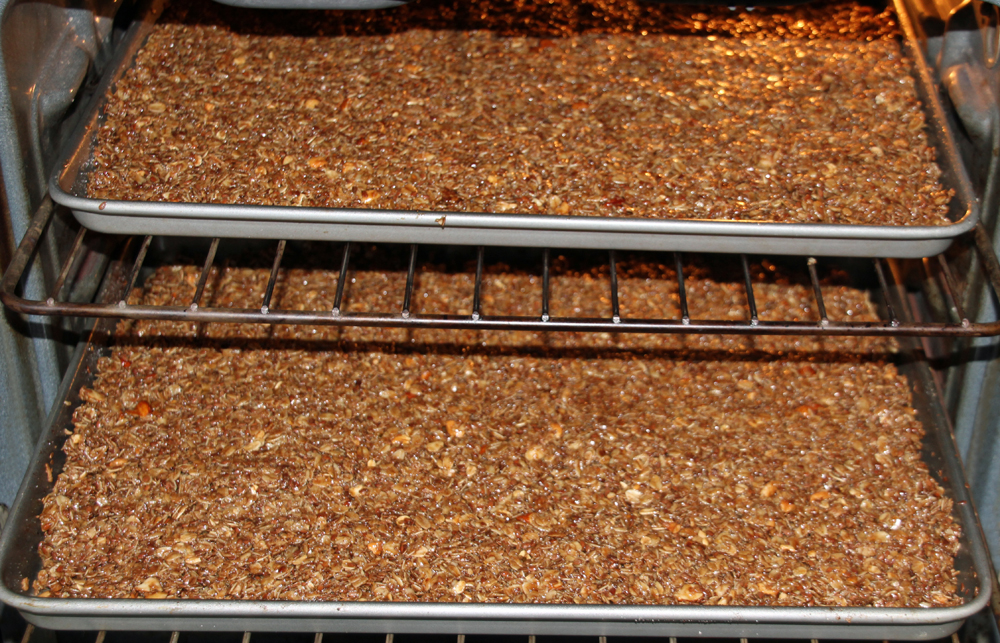 Please remind me that I really must stop baking! Especially if I expect to fit into a wedding dress in a couple months!
Written on 16 Mar at 3:49PM
No comments have been posted yet. (You must be logged in to post comments)
Mary's Dirty Brownies - The most amazing, decadent and sinful brownies on the face of the earth.
Every morning at the cafe, we made 100 cookies to go with the bagged lunches ($5 got you a sandwich, chips and a large cookie of sorts). These were the most requested:
Mary's Dirty Brownies
Ingredients
10 tablespoons butter
1 1/4 cup sugar
3/4 cup cocoa powder
1/2 teaspoon salt
2 teaspoons vanilla extract
2 eggs
1/2 cup flour
For the cookie dough layer
1/2 cup butter
1/4 cup brown sugar
3/4 cup sugar
1 egg
1 1/2 teaspoons vanilla extract
1 1/4 cups flour
1/2 teaspoon Salt
1/2 teaspoon baking soda
1/2 teaspoon baking powder
1 cup semi-sweet chocolate chips
1 15 ounce package Oreo Cookies
Instructions
Preheat the oven to 350 degrees. Line the bottom of a 9×9 baking pan with tin foil and then spray the tin foil with a layer of baking spray. The foil isn't necessary, but does enable you to easily remove the cookies from the pan. Important if you don't want to loose anything so tasty!
In a medium sauce pan, melt the butter over medium high heat. Add the sugar and cocoa powder once the butter is melted. Stir together well and remove from heat. Add the salt, vanilla and eggs and continuously whisk until the eggs are combined. Add the flour and continue to mix. Set batter aside.
For the cookie dough layer:
Cream together the butter and sugars using a mixer. Add the eggs and vanilla, making sure to scrape down the sides of the mixing bowl. Add the flour, salt, baking soda and baking powder and mix on low until everything is incorporated. Fold in the chocolate chips. Set dough aside.
Layer the cookie dough on the bottom of the prepared baking pan, pressing down to form the bottom of the brownies. Layer as many Oreos as you can on top of the cookie dough. No need to overlap. One single layer will be perfect. Pour the brownie batter on top of the Oreo layer and spread evenly on top.
Bake for 30 to 35 minutes. Test with a toothpick to see if the center is done. If the toothpick comes out clean, then remove the pan from the oven and let the brownies rest before serving. If the toothpick comes out wet with batter, allow the brownies to bake another 5 minutes. Best served with ice cream! Makes 16 brownies.
Warning! These brownies cause extreme taste satisfaction and complicate weight loss.
---
Written on 13 Mar at 3:36PM
1 comment
(You must be logged in to post comments)
My new favorite song!!! Into The Wild - LP
It's hard for me to pass by any musical piece that lends positive energy to the feeling of the day. So it wasn't surprising that I fell in love with the Citybank commercial song, sung with a lusty femme fatale voice belting out "Somebody left the gate open, Come save us a runaway train", where the woman climbs to the top of a massive rock formation and stands on it's pinnacle. It's as if my life's motto was placed before my feet, much like letting all the horses out, simply to take delight in their storming across the fields.
Somebody left the gate open 
You know we got lost on the way 
Come save us a runaway train 
Goin insane

LP aka Laura Pergolizzi, a relatively unknown singer-songwriter from Los Angeles by way of New York, is responsible for the wonderful vocal acrobatics of the commercial's song in which she not only throatily sings but whistles evocatively. Her music seems to bridge the gap somewhere between folk and pop. Since 2001, LP's songwriting credits list the Backstreet Boys' 2007 hit
Love Will Keep You Up All Night
, Rihanna's
Cheers
and Christina Aguilera's
Beautiful People
.
Visit her interesting website at
http://www.iamlp.com/
Even better: Download "Into The Wild" free, for a limited time (who doesn't love free music?) at
http://www.warnerbrosrecords.com/news/download-lp%E2%80%99s-%E2%80%9C-wild%E2%80%9D-live-east-west-studios
Written on 7 Mar at 6:32PM
No comments have been posted yet. (You must be logged in to post comments)
They Aren't Just For Breakfast!
This is a mini batch of the same recipe served in my cafe. They were always in short supply as they seemed to almost fly out the window!
Skillet Country Fried Potatoes
4 cups small red potatoes, diced in approx 1 1/2 inch cubes
1 cup chopped sweet onions (Walla walla's if you can find them!) (Optional)
1 cup grated cheddar cheese (Optional)
4 tablespoons butter or margarine (Country Crock is my favorite because it will brown your tators very nicely without burning)
paprika, to taste
salt and pepper, to taste
Ham chunks, bacon bits, browned ground beef, or other precooked meat (Optional)
Boil diced potatoes in water for about 4 minutes, until just a bit tender but not fully cooked. Drain potatoes and toss with onions. Heat butter/margarine over medium heat in a heavy skillet; add potatoes and onions. Fry, bringing potatoes up from bottom of pan with a spatula occasionally for even cooking and browning. Try not to turn your tators too soon, so the edges fully crisp while browning. If adding meat, this is the time to do so. Season to taste with paprika, salt and pepper. Sprinkle cheddar over the top and cover with lid for a minute and serve.
Serves 4.
Note: If planning breakfast in advance (large gatherings or that weeks breakfasts), preboil a batch of potatoes and store in the fridge. They will keep up to three days before souring.
Here they are, sans onions and cheese: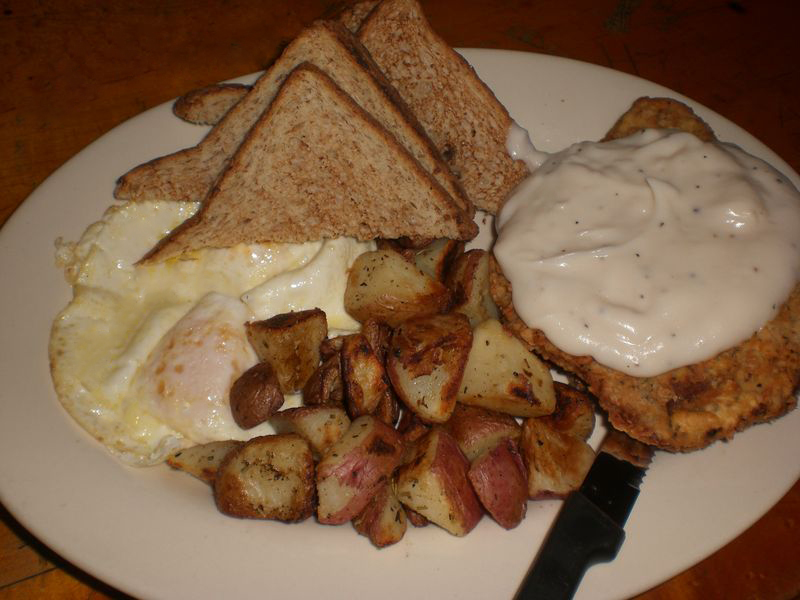 Written on 14 Feb at 7:21PM
1 comment
(You must be logged in to post comments)